It looks like there will be new TOTY Icons for the first time ever in FIFA 23. But what exactly are the TOTY Icons and Alternate Reality Icons? We explain it to you and show you the leaked players.
The FIFA 23 Team of the Year is coming soon, and as if the TOTY cards weren't good enough, it looks like TOTY Icons are coming too! For the first time in FIFA's history, we will get Icons that are related to the Team of the Year. This is a continuation of EA's World Cup Icon series. Will we get more theme-based Icons in the future? We'd definitely be up for it!
Now, before you jump into the article too quickly, you should first read through our FIFA 23 TOTY preparation article. You want to have a chance to pack these players without buying FIFA Points, don't you?
TOTY Icons And Alternate Reality Icons In FIFA 23
First, there is one big question: What are TOTY Icons and Alternate Reality Icons? We never had something like that in FIFA. We will speculate about what these new cards could be. And feel free to add your two cents in the comments below. But whenever there's speculation, it means there's no official information yet. So we're talking about leaks here, which are usually true, but you should always keep that in mind.
Donk and FUT Scoreboard have also posted on Twitter that TOTY Icons and Alternate Reality Icons have been added to the FIFA 23 web app code. These code leaks are basically always legit.
TOTY ICONs are coming

Alternate Reality ICON
TOTY ICON

New card types added, could be
@Fut_scoreboard #FIFA23

— Donk (@DonkTrading) January 9, 2023
As of now, all we know is that these cards are coming. But we don't know yet how they could work. We have a strong suspicion, though…
TOTY Icons – Leaked Players
TOTY Icons could be players who got a TOTY card in a previous FIFA game and are now in the game as an Icon. As you could see in the picture of this article, they are true legends like Wayne Rooney, Fernando Torres or Philipp Lahm.
Such great times back then, in FIFA 14 or FIFA 15, no Weekend League, no toxic players. You could simply play for fun without sweating too much. For the nostalgia, check the best TOTY cards from the past:


FUT History: Best TOTY Cards in every FIFA

View gallery
TOTY Icons In FIFA 23
The following players who are now a part of FIFA 23 as an Icon have got a TOTY card in the past and therefore could be a TOTY Icon:
GK: Iker Casillas
RB: Philipp Lahm
CB: Carles Puyol
CB: Nemanja Vidic
CB: Rio Ferdinand
CDM: Xabi Alonso
CM: Steven Gerrard
CM: Xavi
CAM: Kaka
ST: Wayne Rooney
ST: Fernando Torres
FIFA 23 TOTY ICONS INGAME!

Crazy content coming soon#fifa23 #TOTYICON pic.twitter.com/yJMfNXGt7m

— Razzer – FUT Trader (@Razzerstrading) January 11, 2023
These would be some really interesting cards. And we don't need R9 and Co. every time in a FUT promo. Now the only question is what rating the TOTY Icons would get. The most logical would be an upgrade from the Prime Icons, which were released a few weeks ago. This would already give us proper endgame cards.
With their TOTY cards, the respective players were also at the peak of their careers, which would actually have to be classified above the Prime Icon. It would also make no sense to release a new Icon badge that is simply worse than the Prime Icon. But you never know with EA.
Alternate Reality Icons In FIFA 23
Right now, nobody has an idea what or who the Alternate Reality Icons in FIFA 23 could be. There are several theories which all sound plausible. The first possibility would be that Alternate Reality Icons are players who would have received a Team of the Year, if FIFA Ultimate Team and the TOTY had already existed at that time. The cards would then look like this: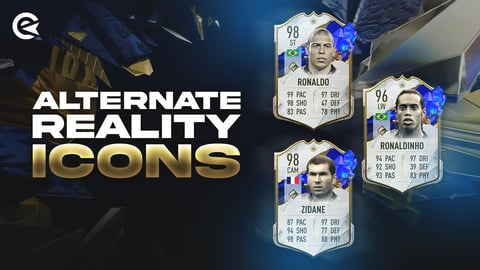 Of course, the list of possible players would be endlessly long. In theory, every FIFA 23 Icon could get an upgrade, because every Icon has delivered a TOTY performance in one season of his career, otherwise they wouldn't have become Icons. We just chose three of the best players of all time, Ronaldo, Zidane and Ronaldinho, and transformed them into a TOTY Icon, which looks really sick.
Maybe the Alternative Reality Icons have nothing to do with the Team of the Year. The promo would fall in the period around the TOTY, but it could be some other nonsense. Are we going to get Icons with a position change? Like what was done with the players in the out of position promo? I'd love to play Miroslav Klose as a goalkeeper, lol.
What else would fit an alternate reality? Paolo Maldini with 5-star skills? Patrick Vieira with 5-star weak foot? There are so many different possibilities.
They could also be professionals who had great potential, but were never able to realize it due to injuries. That would certainly fit the "alternative reality" interpretation. But then EA would have to buy more licences, so it's not realy an option.
What suggestions and predictions do you have for the new FIFA 23 Icons? Let us know in the comments!
This article contains affiliate links which are marked with [shopping symbol]. These links can provide a small commission for us under certain conditions. This never affects the products price for you.